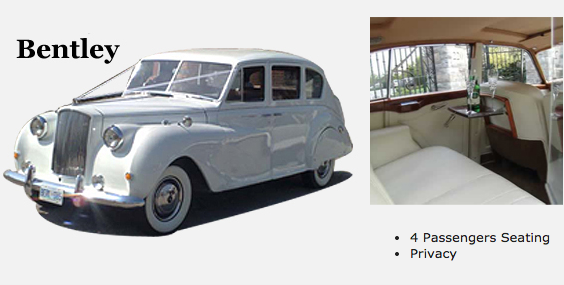 Rent a chauffeured Bentley Limousine and experience the finest traditions
The Bentley Limousine is without a doubt the most sought after Limousine to hire. Loaded to the roof with all the comforts and extras you could ever desire. There are many distinct characteristics that define a Bentley – handcrafted luxury, distinctive design, breathtaking power and performance, a refined and exhilarating driving experience, yet it is the combination of these characteristics that make this marquee so unique. The dedication and determination that Bentley brings to building their cars intensifies the unique experience every Bentley chauffeur takes from ultimate pleasure to ultimate vitalization. More than any other trait, power is the defining characteristic at the heart of the Bentley brand. In a Bentley, it's that distinctive surge, like a giant hand pushing you towards the horizon.
Our Toronto Bentley Limousine has been just perfect for any occasions may be it is a Wedding, Anniversary or a corporate meeting. Take a Bentley on rent and enjoy the very special moment of yours. The Bentley Limo makes a most elegant and romantic Wedding car. It particularly makes a stunning Bridal Car, a poignant and glamorous entrance is assured in a chauffeur driven Bentleys. With a timeless design, this vehicle will enhance your Wedding photos and video for many years to come. When it comes to the special corporate meetings, we understand the need for Reliability, punctuality, flexibility and confidence to all our corporate/ business customers. Whether you are looking for airport transfers, travel to a corporate meeting or conference, we can ensure you arrive safely, relaxed and on time for your day ahead. Our smartly dressed chauffeurs are highly trained and professional. Our chauffeurs understand the business etiquette and discretion required to accommodate the caliber of our customers.
Our quality of Bentley limousine Mississauga will suit those who demand the best; our current model Bentleys have been selected to meet the lifestyle needs of the discerning executive who appreciates the finer things in life. Bentley Rental Limo is a stylish and safe choice. The experience of relaxing and soaking in the history and quality of this hand built prestigious coach will be forever etched in your memory.
Couple the unrivalled craftsmanship and comfort of a Bentley Limousine with the calm, stress-free experience of a courteous, Knowledgeable and discreet chauffeur delivering you safely on-time for your every appointment or special event, and you have an essential component of a first-class experience. If you're seeking exceptional vehicles – and an amazing experience – theBentley Limousine is for you.
At Good Time Limo, we turn dreams into reality! Luxury car rental is within your reach. Simply call us at our reservation hotline number and turn your wildest rental request into reality within a matter of hours.